Fresh, Coastal, Carefree Design
Cottage Company Interiors specializes in luxurious, carefree, coastal-inspired design for families in our much loved coastal Michigan and beyond. From classic cottage to contemporary cool, our timeless designs artfully mix old and new to create a feeling of lived in luxury that beckons families and friends to gather, relax and enjoy.
Our interiors are warm, inviting and functional spaces that cater to a houseful of family and friends and they are individually curated to reflect the personality and lifestyle of each unique client.
Our proprietary systems and processes eliminate the challenges of living far away by providing an enjoyable, personalized and manageable interior design experience. We ensure our client's vision is executed flawlessly and their experience working with us is memorable.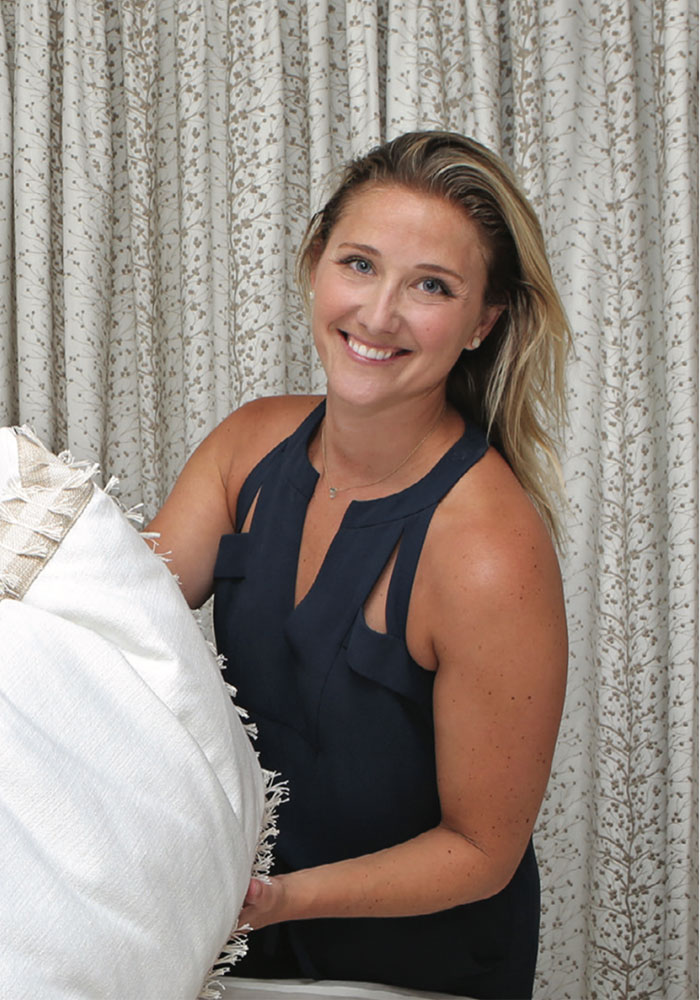 CREATIVE DIRECTOR & PRINCIPAL
Kelly is an award-winning interior designer with a passion for helping families create the coastal home of their dreams. When designing for others, she often reflects on her own experiences of traveling, family vacations, and of summers in Harbor Springs. She remembers the excitement of arriving, sailboats dancing on the bay, the taste of her first ice cream cone, the joy of seemingly endless days surrounded by family and friends. Enjoying the moments–in the present, and later, as they linger long after. That experience is what inspires her designs, that–plus the fresh, carefree coastal style of Southern California, where she was born. 
As Creative Director, Kelly is the design visionary for each and every project. She works closely with each client to create the vision for their project, manages the thousands of details and people that go into achieving it, and keeps everyone informed along the way. Clients love Kelly's personal approach to design, and her ability to exceed their expectations time and time again.
Kelly is the winner of the prestigious Brian Killian Rising Star Award, given to the year's top interior design talent, as judged by a panel of nationally recognized design experts. Her designs have been featured in Traverse, Northern Home & Cottage, Michigan Blue, Seaside Style, Great Lakes By Design, Cottage Living, Detroit Design, Cottage White, Michigan Home & Lifestyle, Detroit Home and Home Life magazines. The firm has also won 51 Detroit Design Awards including "Best Vacation Home" a stunning seven times!
Our Clients Are Our Best Advocates...
"I have worked with quite a few designers and this team stands out above the rest. Highly talented, very professional, always courteous, and most importantly, they are good listeners. They "got" me and my vision. Thank you!"
"Everyone who has been here is so impressed with what you and the magical team have done. You are fabulous! My neighbors are green with envy!...Thanks so much for loving my home as much as me. I could never have done this without all of your help."
"You exceeded my wildest dreams. I asked you to take a dated waterfront condo and make it contemporary cool and you gave me a show-stopper. I could never have imagined the masterpiece you created. And so much fun!"
"We want you to know how much we love everything in out home, Kelly. We have sat on every piece of furniture and all of it is extremely comfortable...and beautiful! You are so unbelievably talented young lady, and a delight to work with! Thank you!!!"